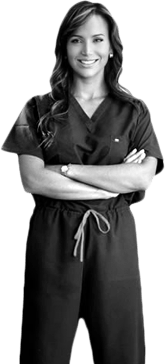 Luisa Plata is member of the

Colombia and Latin American Plastic Surgery Societies

as well as the

European College of Aesthetic Medicine & Surgery,

and is the Official Surgeon of the TV CX3 (Extreme Make Over) program.
She holds a Master in Cosmetic and Anti-aging Medicine from the University of Barcelona, not to mention an endless list of studies and satisfied patients guaranteeing her career and professionalism.
VASER HI-DEF
Abdominal definition
WHAT IS VASER HI DEF?
The Vaser system enables specific detailed definition of the certain body areas, seeking to look more athletic.
High definition lipolysis is the 21st century aesthetics revolution.
BOOK PRESENTATION
Secrets of a Plastic Surgeon
A MAGNIFICENT NEW PUBLICATION
Luisa Plata, a renowned plastic surgeon, wrote this book, which is useful concise guide for those considering plastic surgery, and are unaware of what an intervention of this kind requires.
Exercises and healthy life to fight against cellulite
So what exactly is cellulite?
The average woman loses 5 pounds of muscle and replaces it with about 15 pounds of fat every decade of her adult life.
The ONLY way to get rid of that fat for good is to tone up your muscles and skin in the affected areas. If you're ready to stop feeling ashamed in the clothes you wear… if you're ready to stop avoiding shorts and bikinis… then I promise you can do it, using the programme you're about to read. The best thing of all is that when you see how easy and manageable it is, you'll be able to get rid of your cellulitis FOR EVER.
Extreme Make Over TV Show
Watch her visit to the TV show
CX3 counts with the participation of a selective team of plastic surgeons, dental surgeons, psychologists, nutritionists and physical trainers available to the participants to improve their aspect forgetting their appearance trauma and provide them a new opportunity to be able to appear in the society with security and confidence.
Luisa Plata was the only woman that was chosen to be in the group of eight surgeons in the CX3 TV Program (Extreme Make Over, Third Season) of RCN.
I had the opportunity to use the services given by Dr. Luisa Plata, and I can tell that she is not only a great surgeon with an excellent job, but she is also a wonderful  person who gives great trust and all her friendship, more than focus on the relation between doctor and patient, so you can always count on her when you need her. Do not think twice … Choose the best for your life. Lina Mosquera – Vicereine of the Beauty Contest, 2008

In Dr Luisa's surgery I came across all the state-of- the-art equipment to improve parts of my body. I love them all!!!! In addition, the best professionals in the field of beauty, to inform you correctly about anything you need not to mention the immense human quality. Luisa, many thanks. You're the best!!!! A huge kiss for my Luisa!

Before going to Luisa Plata, I felt very bad with the surgeries I'd had done prior. Surgeons who had botched up some things, particularly my breasts which very large and hurting me, as larger implants than those I'd requested had been inserted resulting aesthetically ugly. This also affected me emotionally, so I started asking around about a surgeon who could be recommended. Then a few days later I was introduced to Luisa Plata, and as soon as I met her I felt safe and calm as I realized how professional she was, not to mention honest, beautiful and friendly. So without more ado I decided Luisa would be the one to do my breast reduction and reconstruction operation. I'm very happy now that my back no longer aches and clothes look much better on me. I also feel prettier, more attractive and satisfied as a result of going to an excellent surgeon. Since not only is Luisa a very good surgeon, but she's also become a good friend.

I had the opportunity to use the services given by Dr. Luisa Plata, it was really a pleasure have her as my doctor. She inspires the trust that you need when something has to be done on your body. She is very kind and nice. The doctor filled my line expressions with Botox and hialuronic acid. I also had the opportunity to use the Spa services and I am very happy with the results. Thank you so much for everything. Certainly you are a super person and a doctor. Ashanta Macauly, miss Curacao 2009