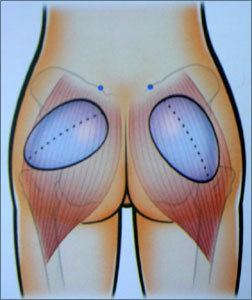 It is possible to correct the lack of volume and/or the drop of the gluteus thanks to the placement of silicone implants specially designed for this purpose. These implants are placed under the major gluteus muscle achieving a natural appearance. A small incision is performed in the inter gluteus line remaining completely hidden.
Implants volume depends on the patient's contexture, hip's measurement and patient's expectations to give the surgeon the guidelines for the implant's election.
This surgery is performed under general anesthesia which takes approximately 2 hours and if at all possible, the patient should remain the first night at the clinic.