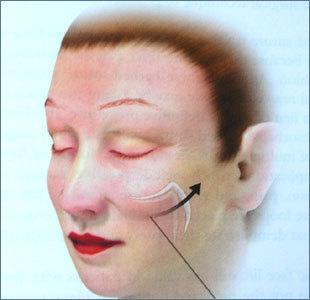 This surgery is also called "SURGERY OF THE GAZE", or surgery of cheeks lifting.
This surgery is suggested for patients between 35 and 45 years old that start feeling the gravity effects and a drop of the cheekbones and cheeks tissues and furrows around the mouth and still do not have plenty skin excess to think about a rejuvenescence or Rhytidoplasty surgery.
It is performed through very small incisions inside the scalp where it is introduce an endoscope that allow us to visualize all internal structures without damaging them until it reach the cheekbones, where it is set internal special points of suspension that allows the tissue to return to its former position and to recover the lost juvenile aspect. Other effect achieved is the stretching of the eyes' external angles to obtain a form of an almond and a more juvenile look.
It is performed under general anesthesia and takes 2 to 3 hours and is ambulatory. Recovery requires 1 week.